COVID-19 and your taxes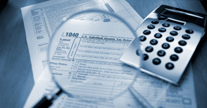 NOTE: State agencies may have different filing and payment deadlines. The states do not automatically adopt the Federal regulations; many have not done so. We continue to keep abreast of the changing deadlines to ensure that clients comply with both Federal and State regulations. To that extent, we will notify our clients who have a different State filing deadline. This link on our site will direct you to a page with individual links for State revenue websites.
We are working diligently to ensure that our clients can file their returns as quickly as possible. This is especially important if you owe the IRS - we want to ensure you have enough time to determine how to make payments. If you need an extension, we will file for one as usual.
SCAM ALERT!! It is also important to remain vigilant with respect to telephone calls, text messages and emails during these trying times. Scams tend to escalate during times of disasters. Remember that the IRS and State revenue departments will not call you, text you, or email you to ask for personal and financial information. For more information from the Federal Trade Commission and the United States Treasury, please click on the links below: